Working in Administration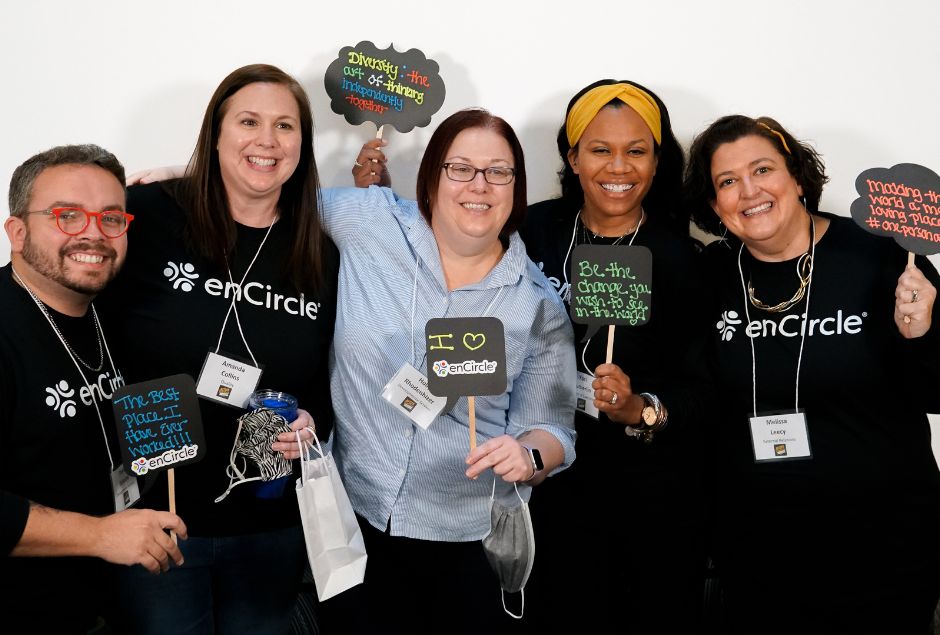 Why work at enCircle?
Administrative positions at enCircle—whether in finance, facilities, or fundraising—are critical to helping us achieve our mission to make the world a more loving place. Our administrative departments help our programs support children, adults, and families in a variety of ways. We serve people with developmental disabilities, children in foster care, immigrants and refugees, and students with special needs. Use your skills and talents at enCircle to make a real difference in people's lives!
Questions? Text SERVE to 866-604-0651 to talk to Heather Watkins, Recruitment Specialist.*
Competitive benefits to eligible employees that include:
Competitive group health, dental, and life insurance
Vacation and sick leave
Retention bonus
Laptops and options for teleworking
Agency retirement and employee savings account 401k
Cell phone reimbursement allowance
Use of agency vehicles; competitive mileage reimbursement rate
Early access to paid wages with PayActiv
And more!
Equal Opportunity Employer
To give equal employment and advancement opportunities to all people, we make employment decisions at enCircle based on each person's performance, qualifications, and abilities. EnCircle does not discriminate in employment opportunities or practices on the basis of race, color, religion, sex, sexual orientation, gender identity or expression, pregnancy, national origin, age, disability status, genetic information, protected veteran status or any other characteristic protected by law.
As part of the Company's EEO commitment, we will also provide reasonable accommodations consistent with applicable law.  The Company will reasonably accommodate qualified individuals with a disability so that they can perform the essential functions of the job unless doing so would cause significant difficulty or expense—i.e., an undue hardship.  Similarly, the Company will also make reasonable accommodations to the known limitations of a person related to pregnancy, childbirth or related medical conditions unless the accommodation would impose an undue hardship. 
If you seek an accommodation because of a medical condition or impairment, or related to pregnancy, childbirth or related medical conditions, please notify Human Resources so we can evaluate your request. Please cooperate with the Company as to any information needed so we can assess your request for an accommodation.
As part of our EEO commitment, the Company will also reasonably accommodate an employee whose sincerely held religious belief, practice or observance conflicts with a work rule or requirement unless doing so would impose more than a de minimis cost or burden.  Please inform Human Resources if you seek an accommodation based on a religious belief. 
The Company will not take any adverse action or tolerate any retaliation against a person who requests or uses a reasonable accommodation. 
*Message and data rates may apply. Max 4msgs/mo. Msgs may be automated from enCircle. Text STOP to unsubscribe.