By Christina Feerick
It's not typical that you look forward to a student you adore leaving your school, but that was the case at the Roanoke Minnick School. 14-year-old Oliver Sargent, who has autism, has been a student there for three years. When he arrived, he exhibited aggression and self-injurious behaviors. "We are on a journey with Oliver. Sometimes when you are the parent of a kid like Oliver you can feel alone and get really discouraged," said his mother, Daphne Sargent.
At first his mother was hesitant for Oliver to go to Minnick School, but she knew something had to be done—and done quickly. He was disruptive and hostile at his home school and sent home daily because of his behaviors. Due to the level of their disability, some public schools don't have the specific programs to best serve students like Oliver.
The Minnick staff welcomed him with open arms. And though there's no denying the first year was tough, his mother says the second year Oliver adopted the coping mechanisms he had been taught, settled into his routine, and they saw a significant decrease in negative behaviors. For example, something as simple as earplugs to block excess sensory stimuli have made a huge difference in the classroom! After hard work and the dedication and determination of his family and the educational staff, Oliver can now ride the bus, use the restroom, and make a delivery to the school office — all by himself! "Those were huge accomplishments! They love him at Minnick and he loves going to school," said Mrs. Sergant. Both the family and staff agree it all comes down to teamwork. "This is a perfect example of how well our Minnick services work when the parents are on board," said Principal Ashley Wittl-Osborne.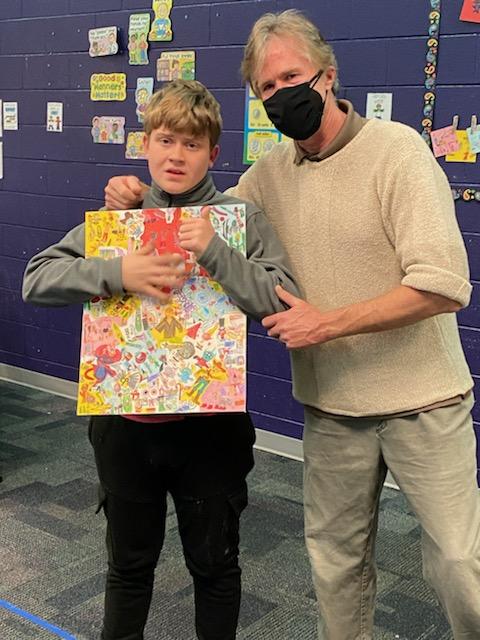 Fast forward to March 25th and the celebration of Oliver being able to transition back to his home school, Hidden Valley Middle. It's somewhat of a rare occurrence for students who are in the adapted program, designed for students with developmental disabilities, to be able to go back to public school. His mother said it was a tough decision, but he had "outgrown" Minnick and was ready. Principal Wittl-Osborne said, "Oliver is pure joy. While we hate to see him go, we are elated! Many of our educational staff had tears of happiness on his last day. He is just a happy part of our day."
And though Oliver may not be in Minnick's classroom, Principal Wittl-Osborne assures they will keep tabs on Oliver's continued success. As for his mother, she is extremely grateful to the staff and is eager to see his next steps. "If sharing Oliver's story can help encourage even one parent and let them know about the resources at Minnick, then I'm so glad I got to share his story," said Mrs. Sargent. "You just have to believe in it!"