By Cindy Adams
Drills, levels and rulers replaced computers, pens and paper this summer at Wytheville and Roanoke Minnick Schools. An outdoor building project was a first-time experience for most. To lead the work, Minnick contracted with Danny Suthers and Keith Robinson, both skilled building trade teachers from Wythe and Roanoke County Public Schools.
"Their trade and teaching backgrounds made them a great fit for our kids," explained Bill Sutherland, Wytheville Minnick principal. "The kids couldn't wait to get started each day."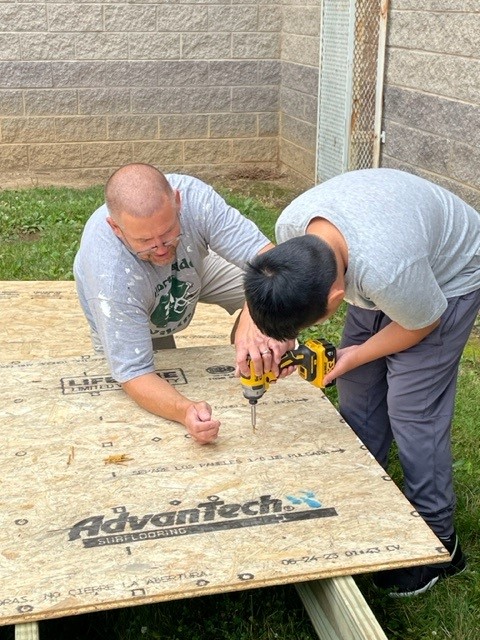 At first, the teachers worked hand-over-hand with students. They closely and methodically guided them in proper techniques of operating the tools of the trade. In a few days, approximately 10 students from each school built two 10 x 10 sheds to be used for storage at Wytheville and Roanoke Minnick.
"I felt really good about building something that was helpful for the school," said Tre, a 7th grader at Wytheville Minnick. "It's the first time I have ever built anything, and I felt like I really accomplished something."
Taking students out of the classroom and creating a space where they had to follow directions, read plans and measure angles was a cross-curriculum venture, but it was so much more than that. The collaboration, teamwork and accountability were the greater life skills.
"It was a learning curve, for sure," said Keith Robinson, Roanoke County Public Schools teacher. "Guiding their hands on how to hold a screw and then how to temper a drill teaches them both patience and focus."
Antonia, a 7th grader at Roanoke Minnick said, "I had a rough start with the drill at first, but then I got better at it."
Of course, he did.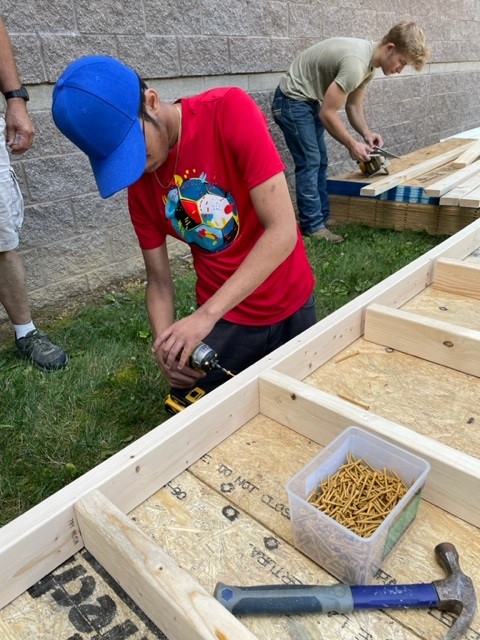 Kody, a rising 11th grader at Wytheville Minnick said "It was something I never knew I would be good at, but I was, and that was terrific! It felt good helping each other out, but what I really loved was learning to do something like that on my own."
His classmate, Tre, who had never built anything, would echo that.
On the last day of the project, Principal Sutherland put his hand on the back of Tre's driver to assist him. He quickly realized, however, that he was no longer helping. Now, he was just getting in the way.
"Please, Mr. Bill," Tre said. "I can do this myself."